What do UMF and KFactor measure?
In North America there is a brand that stands out for its strong sales, very affordable price and value for money. That is Wedderspoon. But when digging in to the testing and certification of Manuka Honey we have to ask if that is deserved or if there are better tested Manuka Honey brands on the market.
When buying Manuka Honey there are many numbers, grading systems and tests that show on labels. The most common ones include the UMF Grading system. This includes MGO testing. Some jars just have MGO. Others have MGS, KFactor, Bio-active and NPA.
Today we want to focus on Wedderspoon and their KFactor system and what it actually means.
Marketing can so often confuse how we understand products. Sometimes it's the best marketing that wins, not the best product. In the case of Manuka Honey it can be so confusing seeing numbers and grading 'systems' on labels with very little explanation of that those mean.
Let's start with monofloral export honey.
For a Manuka Honey to leave New Zealand labelled as a mono-floral Manuka Honey it must first pass testing criteria laid out by the New Zealand Government. This is enforced by the MPI – Ministry of Primary Industries.
This identifies if the honey can be labelled as a monofloral Manuka Honey, meaning the honey has been harvested predominantly from the Manuka Honey tree flower (Leptospermum scoparium tree for it's full genus name). If the honey is not mostly harvested from the Manuka Tree then it is labelled as a monofloral Manuka Honey. This means it is Manuka Honey but there are other flowers that the bees have harvested from including the Manuka flower.
What that testing doesn't let you know is how good the quality of the honey is. What the difference chemical markers in the honey have returned in testing to understand the antibacterial levels in the honey. The things that make it special.
Now we get to the differences between a UMF Graded Honey and KFactor grading.
We now know that both UMF honey and Wedderspoon honey have passed the MPI testing to be able to be exported from New Zealand.
UMF vs KFactor
It's important to note both the UMF and KFactor are both trademarked. The difference between the two is more than just what they test for.
The UMF is a grading system created and overseen by the UMFHA – Unique Manuka Factor Honey Association. It has many members who join the association and agree to meet certain criteria when producing their Manuka Honey.
KFactor is a 'grading system' invented by Wedderspoon that for all intents and purposes doesn't seem to test anything much at all. Wedderspoon are the only people who can use the KFactor marketing slogan.
Here is a table using the UMF testing components compared to K-Factor.
| Description | UMF | KFactor | What is this? |
| --- | --- | --- | --- |
| 1: Methylgloxal Levels (MG/MGO) | ✔ | | Denotes the special antibacterial levels in the Manuka Honey. |
| 2: Leptosperin Levels | ✔ | | Confirmation it is from the Leptospermum scoparium flower. Anti-inflammatory properties. |
| 3: Hydroxymethylfurfural (HMF) | ✔ | | This ensures that the honey hasn't been artificially heat treated to increase the MGO levels. |
| 4: Dihydroxyacetone (DHA) | ✔ | | MGO originates from DHA |
| 5: Testing results can be verified | ✔ | | UMF members have certificates for each batch of their honey available to customers. |
| 6: non-GMO Project | – | ✔ | UMF members can achieve this but it is not a requirement |
| 7: Glyphosate Free | – | ✔ | UMF members can achieve this via the detoxproject.org but it is not a requirement |
| 8: Produced & Packed in NZ | ✔ | ✔ | |
| 9: Labelled in NZ | ✔ | ✔ | |
| 10: Raw & Unpasteurized | – | ✔ | Many UMF members offer Raw |
| 11: Traceable | ✔ | ✔ | Most UMF members have tracing options. It is a requirement of how Manuka honey is shipped that it's source is known. Each step is tracked from source to your table or 'hive to table' as Wedderspoon say. |
It is impossible to understand what quality the Wedderspoon honey presents. It is also impossible to understand the MGO levels or HMF levels in the Manuka Honey.
Manuka Honey gets more expensive the higher the MGO levels go. It is harder to find and harvest Manuka Honey with high levels of methylgloxal. For this reason we can only assume the MGO levels in Wedderspoon are probably quite low.
What is good about Wedderspoon Manuka Honey?
Based on the above we do know that Wedderspoon Manuka Honey is a monofloral honey. We also know it is affordable and that it is non-GMO verified. They've made real efforts to give their customer confidence.
Note: New Zealand at this time has never actually produced GMO foods so getting non-GMO verified in NZ is usually just a lot of paperwork and validation. Regardless of this – it's a really great thing that Wedderspoon have done.
Wedderspoon also have an Organic Manuka Honey. This is a great achievement on their part. While we don't know the MGO/HMF levels of those honey we do know that it is very expensive and difficult to achieve an organic label for a Manuka Honey. Well done Wedderspoon!
They also hold their testing and production facilities to a high standard.
They test for antibiotics, glyphosate and pesticides but we're not sure about how this is done and if it is reported.
The biggest shortfall is that we don't know the MGO levels in Wedderspoon honey.
What is good about UMF Manuka Honey?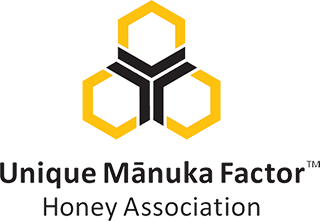 With a UMF Honey you are often going to get many of the same features that Wedderspoon offer. Most are Raw and Unpasteurised, most offer traceability programs, all have to be processed, packed and labelled in NZ (A UMF requirement to have the UMF badge), all now test for Glyphosate to ensure it's exportability and as NZ doesn't have GMO foods you can have confidence they are GMO free even if they don't have the certification.
The benefit that UMF Honey offers is that you can request the laboratory testing certificate for the jar you may have purchased.
And some anti-inflammatory measurement.
In purchasing UMF graded honey you can see how high the levels are. This is most important when you are looking to purchase for specific use and need to know the antibacterial levels in the honey.
Summary of the UMF vs KFactor discussion
Wedderspoon is a great brand and they produce a very popular Manuka Honey, and other products. It just important to note that the Manuka Honey you are buying is likely a lower MGO level Manuka Honey.
The UMF is a full organisation with standards and criteria its members must adhere to. Its members honey is randomly tested off shelves all around the world to ensure it has not been adulterated or tampered with after production.
You can have confidence in buying Manuka Honey from either Wedderspoon or a UMF member.
The biggest note we'd add in is that if you are wanting to buy Manuka Honey for medicinal, skincare or wound healing purposes then it's worth buying a higher MGO honey. Anything MGO 250+ or above is OK but anything over MGO 500+ is even better.
It is possible to buy Manuka Honey over MGO 1200+. These will have excellent medicinal properties but might be very bitter to eat due to the high anti-bacterial levels in the Manuka Honey.
If you just want to buy a yummy Manuka Honey to eat, any of the above will suit. You know your getting the best Manuka Honey.
If you have any questions, just ask them in to the comments below.