Finding the right Manuka Honey Tea recipe can add a real lift to your relaxation time
Manuka Honey is known for it's healing benefits and we all love a good cup of tea. So what does this mean? Do we just add Manuka Honey to our tea or is there a tea that includes Manuka Honey in it?
The antibacterial benefits of Manuka Honey are what makes it so unique from any other honey. The high methylglyoxal levels provide those antibacterial properties but at what temperature do those benefits being to fail?
Adding Manuka Honey to your Tea
Surely in a hot cup of tea with boiling water you will kill the properties in the Manuka Honey? But I want boiling water on my tea/tea bag as that provides the best steeping results. And, I want to add Lemon too. What to do!
First, know that the MGO levels in Manuka Honey can handle some high temperatures before it becomes less effective. Don't get us wrong – boiling water is designed to kill most things that hurt us, all those nasty bacteria on things.
Manuka Honey MG can take up to 60 degrees in short bursts of temperatures and still retain it's properties. If it is exposed to long periods of heat and temperature over many days it can degrade the MGO and result in lower, less effective benefits.
So, if you're planning on having Manuka Honey in your tea, just add it after you have poured the water or wait for it to cool down a bit before you pour it into your tea cup.
Typical Manuka Honey Tea recipes often include:
Lemon Manuka Honey Tea
Ginger and Manuka Honey Tea
Lemon, Ginger and Manuka Honey Tea
---
Benefits of adding Manuka Honey to your Tea
1: Soothes a sore throat
Manuka Honey is known to soothe sore throats. Its antiviral and antibacterial properties can take to, and attach the bacteria that cause sore throats.
A study of cancer patients who were undertaking chemotherapy notices a difference in their sore throats after consuming Manuka Honey. https://pubmed.ncbi.nlm.nih.gov/10784339/
A step up from just sore throats, Manuka Honey has also been found to be beneficial with taken for the relief of URTI – upper respiratory tract infection. A recent British Medical Journal article supports the fact that Manuka Honey and its antimicrobial nature is great as a natural alternative to antibiotics.
So the old saying that a warm water and [manuka] honey can help a sore throat all seems true.
https://ebm.bmj.com/content/early/2020/07/28/bmjebm-2020-111336
https://www.newshub.co.nz/home/lifestyle/2020/08/honey-more-effective-at-treating-common-colds-coughs-than-antibiotics-medications-research.html
2: Tastes great
Manuka Honey from around UMF 5+ (MGO 80+) to UMF 15+ (MGO 500+) has a wonderful balance of rich, sweet taste with a little hint of bitter depth.
As a natural alternative to sugar, it also adds some wonderful tasting notes to a cup of tea or hot water.
The rich caramel nature of honey with its medicinal hints can take a hot water or tea and make it a complex flavourful drink.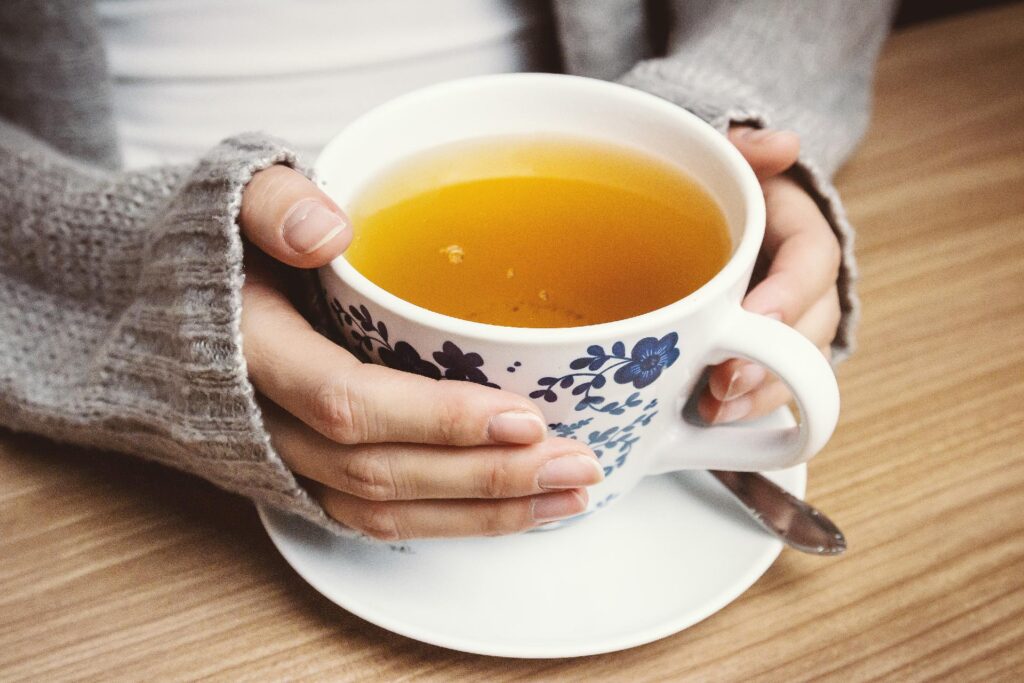 ---
Manuka Honey Tea Recipe
Here a very tasty Manuka Honey Tea recipe which has a punch of natural ingredients.
Some of you might be happy to stick to just Manuka Honey Tea, or warm water but this recipe includes many antioxidant additions for your tea.
Warm water (not boiling but not Luke warm either – yuk)
Either 4-5 slices of fresh ginger or around 1/8th of a teaspoon of ground ginger. Fresh is best.
Healthy squeeze of lemon
Pinch of cayenne pepper to taste. Not all appreciate the invigorating nature of cayenne pepper.
One healthy sized teaspoon of Manuka Honey UMF 10+ or higher.
Add preferred tea bag and tea type (doesn't have to be normal black tea, get creative)
You can mix this all in a tea sieve, in the cup or in any other form of hipster tea making device. Add the water and drink at will.
This recipe is primed for you to experiment and change the levels of each ingredient as you like. The ingredients we have chosen are specifically good for matching with tea and Manuka Honey but go crazy.
---
Manuka Honey Tea Bags
If you don't fancy making your own Manuka Honey Tea concoction then you can also purchase teas pre-made. These Manuka Honey tea bags make it easy to make a tasty brew but we'd always recommend including some real Manuka Honey for taste and natural sweetening.
Some of these have other dominant flavour profiles, like floral, but they are all there.
1: Healtheries Chamomile Tea with Lemon and Manuka Honey
It's caffeine-free and has a sweet profile to it. Chamomile is reputed to be a calming tea so with this one you get the best of all world.
https://healtheries.co.nz/product/chamomile-tea-with-lemon-manuka-honey
2: Red Seal Turmeric, Lemon and Manuka Honey
Turmeric is all the rage these days so Red Seal have done a great job bringing it into this tea. Relaxing and invigorating all in one delightful cup.
https://www.redseal.co.nz/product/turmeric-lemon-manuka-honey/
3: PUKKA Lemon Ginger and Manuka Honey Tea
PUKKA, from Unilever, brings you a sustainably sourced Manuka Honey Tea option. It's fully traceable from production to cup which is a nice touch. It also has more certifications than my successful 5th-grade swimming career.
https://www.unileverfoodsolutions.co.nz/product/pukka-lemon-ginger-and-manuka-honey-tea-20-s-1-EN-284662.html
Conclusion
However you slice it…or brew it…Manuka Honey Tea is a really delightful addition to your day to help boost your immunity and calm your nerves.
You can either concoct your own Manuka Tea solution or buy one of the ready mixed tea solutions off the shelf.
Just remember to avoid pouring boiling water over your tea as you want the MGO levels to be unharmed. Anything under 60 degrees celsius should be OK.
Any questions? Ask in the comments section below.