A comparison chart to help you understand how the UMF vs MGO numbers work. These two amounts are actually linked together. If the UMF goes up, so does the MGO (Methylglyoxal).
MGO is the chemical compound in Manuka Honey that gives it its anti-bacterial properties.
This information from the UMFHA provides additional insights to understand this table.

Important things to note about UMF, MGO, DHA and NPA
UMF is a grading system that combines many different elements that are tested within Manuka Honey. It is not a single chemical marker in the honey, although it always seem to match the NPA (non-peroxide activity) level that is tested for within Manuka Honey.
You can see our suggested list of the best manuka honey here.
The chemical markers in Manuka Honey that have specific results relating to the UMFHA Certification are:
DHA
MG (MGO) Methylglyoxal
HMF
NPA
It's important to note that while NPA is listed in a Certificate of Analysis from a laboratory that tests Manuka Honey, it's actually calculated from the methylgloxal concentration in the honey. This could also explain why UMFHA certified honey matches the NPA figure.
So, what do the other markers tell us about Manuka Honey and can they also go on this Manuka Honey calculator?
Well, there is less of a struct numerical correlation between each of these other markers. While they do go up and down as both UMF & MGO go up and down they don't do it in such a linear manner. For this reason we can't easily plot these on the rows in the calculator.
Let's be clear here, it's UMF AND MGO not UMF VS MGO. The two work together, not against each other.
But, we can still explain what they mean.
DHA (dihydroxyacetone)
Beekeepers and Manuka Honey exporters use DHA as an indication of how high the MGO levels in the Manuka Honey might go. A high concentration of DHA when the Manuka Honey is young helps to estimate what the corresponding MGO levels will grow to over time. There is a limit to how long this will grow but it can sometimes take years to grow to a peak level. This will depend on how the honey is stored and at what temperature amonst other factors. MGO actually originates from DHA (dihydroxyacetone).
One of the most popular independent testing facilities in New Zealand, Analytics Laboratories, talk more on this.
MGO (Methylglyoxal)
MGO (sometimes referred to as just MG) is an indicator of the antibacterial levels in the honey. The higher the MGO the higher the antibacterial concentration in the honey. Note, this is concentration. e.g. You cannot take a higher volume of UMF 10+ and hope to achieve a UMF 15+ level. The tested levels in the honey are absolute and you cannot achieve higher levels through volumetric measurements.
So, from these first two markers we can see they are connected and cannot be separated. One influences the other and both MGO and DHA will naturally decrease over time. While DHA is an indicator of how high the MGO levels will go, there is a maximum the MGO can get to and then, once it has peaked, it will slowly decrease.
You can slow Manuka Honey's growth and the slow decrease over time by storing it in cold environments e.g. refrigerate it.
HMF – Hydroxymethylfurfural
HMF is an important marker to test for in Manuka Honey because it helps to know if the honey has been artificially heated to increase the MGO levels. This is also known as 'cooking' the honey. If you increase the temperature of a Manuka Honey beyond normal ambient or environmental temperatures this artificially produces higher MGO levels in the Manuka Honey.
To clarify, HMF is produced as a result of heat treatment and ageing. It does naturally occur also and because of this the CODEX recommended levels suggests a maximum amount of 40 milligrams per kilogram (40 mg/kg).
HMF occurs if the honey is heated above 30 degrees Celsius.
It is good to have confidence that this marker can give confidence of a natural or raw Manuka honey's authenticity. Any of the best Manuka Honey brands we list adhere to these requirements.
NPA
NPA (non-peroxide activity) is the non-peroxide activity in the Manuka Honey. As previously mentioned this is a number derived from the MGO and is not tested marker. To quote the laboratory report:
Non-Peroxide Activity (NPA) values are not directly measured by the laboratory, but are calculated from the measured methylglyoxal concentration in the honey according to the requirements of the client.

Analytica Laboratories
In the early days NPA was the known measurement of Manuka Honey and in some countries like the UK some people still look for NPA as the numerical measure of quality.
NPA was confusing for a lot of people so a collective came up with UMF which stood for Unique Manuka Factor. This was trademarked and the UMFHA – Unique Manuka Factor Honey Association grew in to a collective of licence paying Manuka Honey exporters who agreed to meet certain standards of their Manuka Honey by being a part of the UMFHA.
German researchers in 2006 then discovered a connection between NPA/UMF and MGO. This connection is now why UMF numbers and NPA numbers always align. You could purchase honey with an NPA number and not worry about UMF Manuka Honey but there are other assurances you get from buying UMF labelled honey.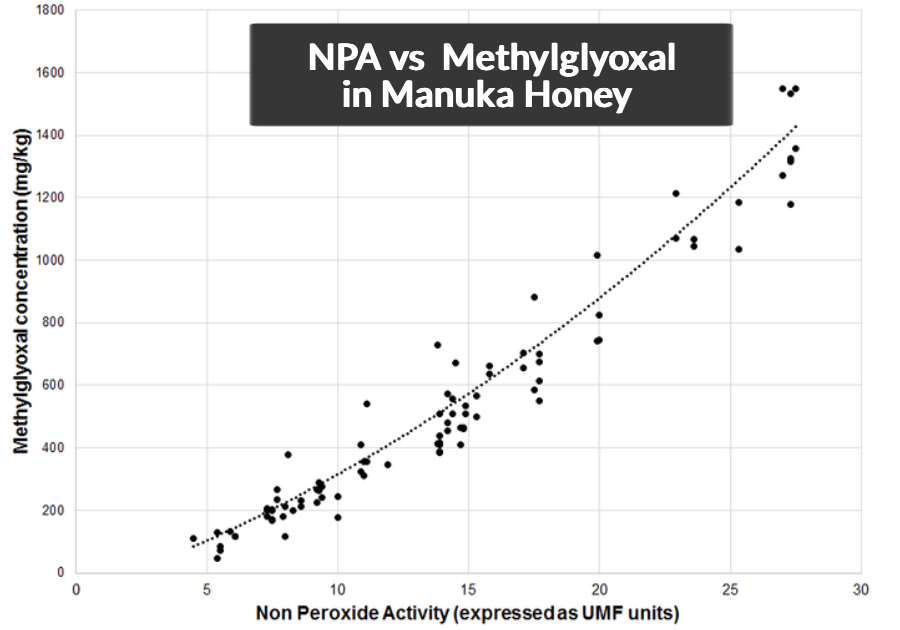 These are some of the key markers that are tested for, especially in UMF Manuka Honey. There are other requirements set out by the New Zealand government or MPI – Ministry of Primary Industries, these we will cover in a different post.